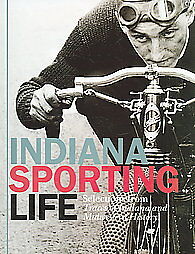 Indiana Sporting Life, edited by Ray E. Boomhower , tells the history of sports in the Midwest and Indiana. Published by the Indiana Historical Society, this book explains some of the thrill behind sports in Indiana.
From basketball to racecar driving, Indiana Sporting Life highlights what Hoosiers love—a little friendly competition. With selections from nine different authors about how important sports are to Indiana, this book shows the passion of Indiana athletes, coaches and spectators.
Indiana Sporting Life is available through Indiana Humanities Novel Conversations lending library. Request a set (for free!) for your book club today.
In July and August, Indiana Humanities is exploring the topic of "passion," as part of its Spirit of Competition theme.